TOPAS® cyclic olefin copolymer (COC) has a low surface energy: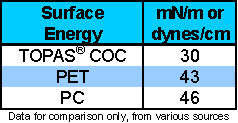 Note that TOPAS' intrinsic surface energy is essentially identical to polyolefins like PE and PP. COC can be surface treated like other olefins, using standard technologies such as corona, plasma or flame. When treated, TOPAS COC tends to achieve and maintain higher treatment levels than similar resins, including polyolefins like PE and PP.
In healthcare, other polymers may have a higher energy surface that can compromise drug storage. Lower surface energy can promote liquid transfer efficiency to maximize drug utility, leaving less active ingredient remaining in the container.
For more information on TOPAS medical plastic for Healthcare, see our Medical Brochure.
For more information on TOPAS resin for Packaging, see our Packaging Brochure.
For other applications, please consult our general Brochure.